Network of Specialists
Through Northwestern Mutual, I have access to a Network of Specialists. We help each other, share ideas and common values, and leverage each other's talents to help you achieve your personal dream of financial security.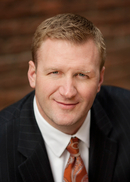 Wealth Management Advisor
A graduate of Willamette University and the Atkinson Graduate School of Business, Matt Benjamin has been actively serving the Salem community in various ways, since 1998.

Matt Benjamin specializes in personal financial and estate planning, as well as helping people achieve and maintain a strong sense of financial security, as life brings about the unexpected. Matt has been providing these services through Northwestern Mutual, since 2004.  

Investment Strategies

Without a coordinated investment strategy, it can be difficult to build an effective investment portfolio that helps meet your financial needs. As a Registered Representative of Northwestern Mutual Investment Services, LLC (NMIS), I can offer you access to a wide range of investment products and services. I will work with you to develop investment solutions aimed at meeting your financial objectives.

Estate Planning

You work your whole life to build your estate. You should have control over what happens to it upon your death. Building a lasting legacy takes more than simply accumulating a large portfolio. You need a solution that remains flexible enough to allow you to maintain maximum control of your assets and enjoy them during your lifetime while you prepare for the efficient transfer of those assets after you die.